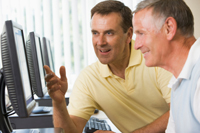 Adobe, Articulate, Microsoft Office & Project and Primavera Consulting and Support
In addition to the Adobe, Microsoft & Primavera courses that we offer, you can also contact us to schedule time with an instructor to provide consulting services, private tutoring or customized training.
Excel formulas not working right?


Get help with Excel spreadsheets, workbooks and charts. Perhaps you want to use Pivot Tables, but can't because your data isn't structured correctly? Ask an instructor for help, they can help troubleshoot with you, so you will learn by doing.

Do you need help creating a bid schedule in P6? Do you need your P6 schedule maintained? Do you need help creating BI Publisher reports? Ask us about Primavera consulting services or customized training.


We're Here to Help!